Montana HS Journalist of the Year deadline March 1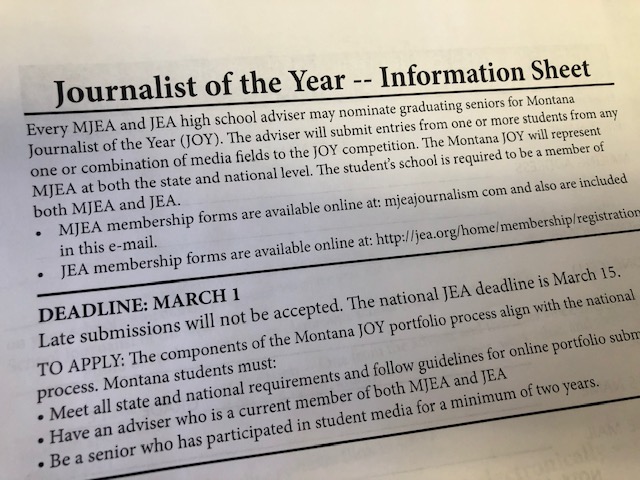 The deadline for applications for the 2019 Montana HS Journalist of the year is March 1. Here is some information regarding the contest.
Applicants must be graduating seniors with at least two years of journalism experience at the school.
The school's journalism adviser must be a member of both MJEA and JEA
The application must include an electronic portfolio. Links are provided below for examples. The winner will use this portfolio for competition at the national level.
The state contest mirrors the national contest requirements. You are welcome to visit this website to give you resources:
http://jea.org/home/awards-honors/journalist-of-the-year/
The state contest rubric mirrors the national rubric. There are no changes to the national rubric for this year. It is still located at: http://jea.org/wp/wp-content/uploads/2016/12/2017_JOY_RUBRIC_FINAL.pdfNOY
The 2018 candidates' portfolios (not just national winners) have been added to the JEA JOY website so you will have a wide variety of examples to look at. Please check them out at:  http://jea.org/wp/blog/2018/04/14/jea-announces-2018-national-high-school-journalist-year/
It is important to know that the submission first needs to be emailed to the Montana address on the attached forms and not to the National JEA. The State Director will have the entries evaluated by professional journalists. She will send the winning entry on to the national competition.
The portfolio is not sent through a DropBox system. It is emailed.
Journalist of the Year — Application and Information