JEA National Convention offers online workshops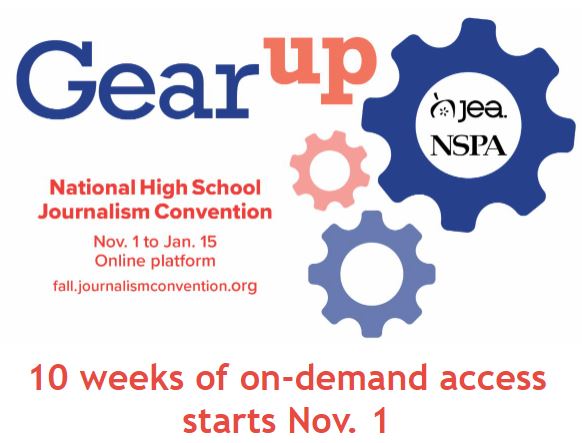 Gear up for the Fall JEA/NSPA National High School Journalism Convention.
The online convention connects you and your students with more than 100 industry professionals — in the safety and convenience of your classroom.
Each registered adviser has unlimited access to the convention platform content — not only for themselves, but also for ALL of their students.
This allows advisers to deploy convention content in classrooms for all their students for up to 10 weeks. Use it over time, or carve out a few days to experience all at once. Let the online convention supplement your curriculum — stream a video to the entire class or assign videos to students to watch independently. Last spring, most schools had more than 18 students participating individually.
The video content will feature industry professionals, including keynote speakers and new Chat with a Pro video series. University journalism programs, as well as companies closely tied to the scholastic journalism community, also will have educational material for advisers and students to experience.
Online platform closes Jan. 15, 2022 no matter when you register — if you register after Nov. 1, you will have less than 10 weeks access.
JEA member registration: $400
Nonmember registration: $550