Livingston students interview Rep. Gianforte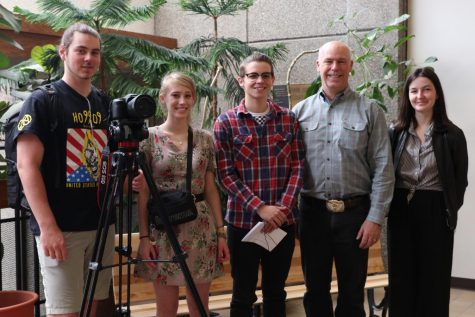 Four Park High School journalism students had the opportunity to interview Congressman Greg Gianforte (R-MT) on April 23  when he was in Livingston to present the county commission with a signed copy of the Yellowstone Gateway Protection Act.
The students, accompanied by adviser Kate Lende,  interviewed Gianforte in the City-County Complex.  They asked him questions on a variety of topics, from school safety, suicide rates in Montana, legalization of marijuana, and even what his talent would be if he entered a male beauty pageant. ( He said it would be telling jokes, in case you were wondering).  The students are running a story based on the interview in their May issue, and they took video of the entire interview for the web site.
The students, all seniors, are Dana Baskett, Lily DeYoung, Buddy Murphy and Gibson Erickson.