THE 2019 SPRING CONVENTION PROGRAM IS NOW AVAILABLE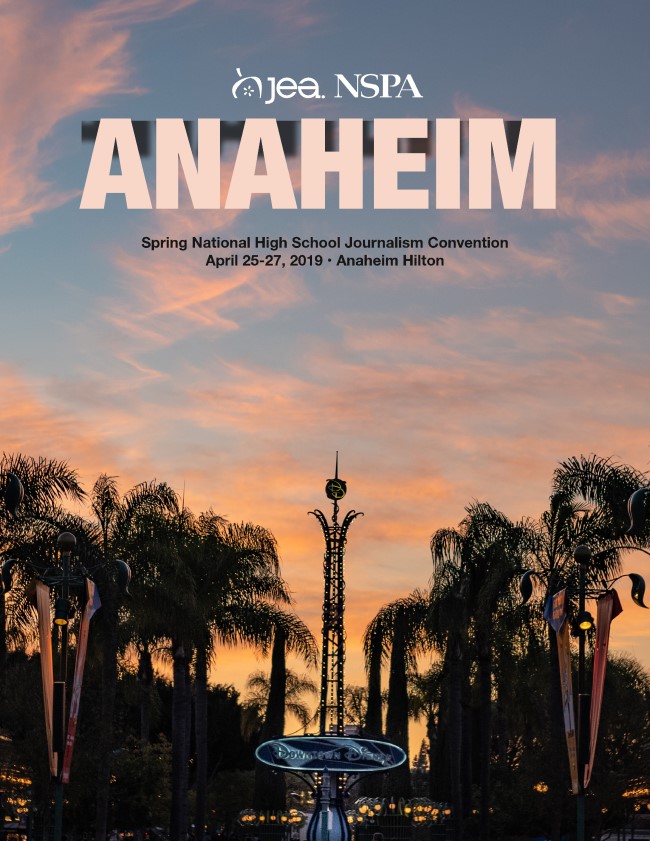 The Anaheim convention program booklet is now available for download. Start planning your convention experience now.
The convention begins with the opening ceremony and keynote at 7 p.m. on April 25, and concludes with a joint JEA/NSPA award ceremony at 3:30 p.m. on April 27.
The convention agenda will be available on the official convention app, EventMobi, on April 5. Search for nhsjcspring19 to find the agenda once published.
REGISTER FOR EXTENDED SESSIONS STARTING APRIL 4
For those coming to the JEA/NSPA Spring National High School Journalism Convention in Anaheim, remember to register for more in-depth training for students and advisers. These workshops extend beyond the typical 50-minute breakout and last between two and three hours. Registration for extended sessions begin April 4 at noon Central time. To register, re-enter your registration portal in Cvent to then select from the following list of extended sessions in Anaheim.
Photojournalism basics (2 hours)
InDesign tips and techniques for student publications (2 hours)
Photoshop tips and techniques for student publications (1.5 hours)
Yearbook jump-start: 2019-2020 planning (2 hours)
Surviving in a fake news world (3 hours)
Better interviews, better stories (3 hours)
DSLR camera boot camp (3 hours)
Media literacy in practice (3 hours)
Telling human stories (3 hours)
Lightroom for beginners (2 hours)
Advisers: Don't be a lone wolf; join a pack (2 hours)
InDesign tricks: Work smarter, not harder (2 hours)
Using Illustrator to enhance your publication (2 hours)